This Week In Nairobi: It's A New Week And Here Are Our Top Picks For Everything Happening In The City
Highlight Of The Week: Barak Jacuzzi & Friends (Haunted House)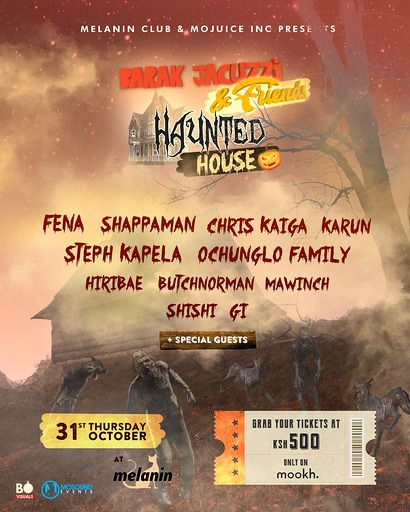 Nairobi's golden boy has been bringing us some really memorable nights with his Barak Jacuzzi & Friends gigs. Teaming up with some household names in Nairobi's music scene, he has been able to bring together the hottest HipHop and RnB artists, at the time, on to one stage. This week, Mr. MoJuice himself is bringing you one helluva of a treat. Barak Jacuzzi is partnering with some of his very cool friends to bring you one of the dopest halloween parties you'll experience. Boasting a lineup that features Fena, Shappaman, Chris Kaiga, Karun, Steph Kapela, Ochunglo Family, Hiribae, Butchnorman, Mawinch, Shishi and GI, attendees are in for a haunted house experience that features some acts so talented, it's scary. Happening at the Melanin Club this Thursday, you'd be borderline crazy to miss out on an opportunity to turn up with all these amazing artists all in one night!
Make sure you grab your tickets here before it's too late.
Passport Experience Saturdays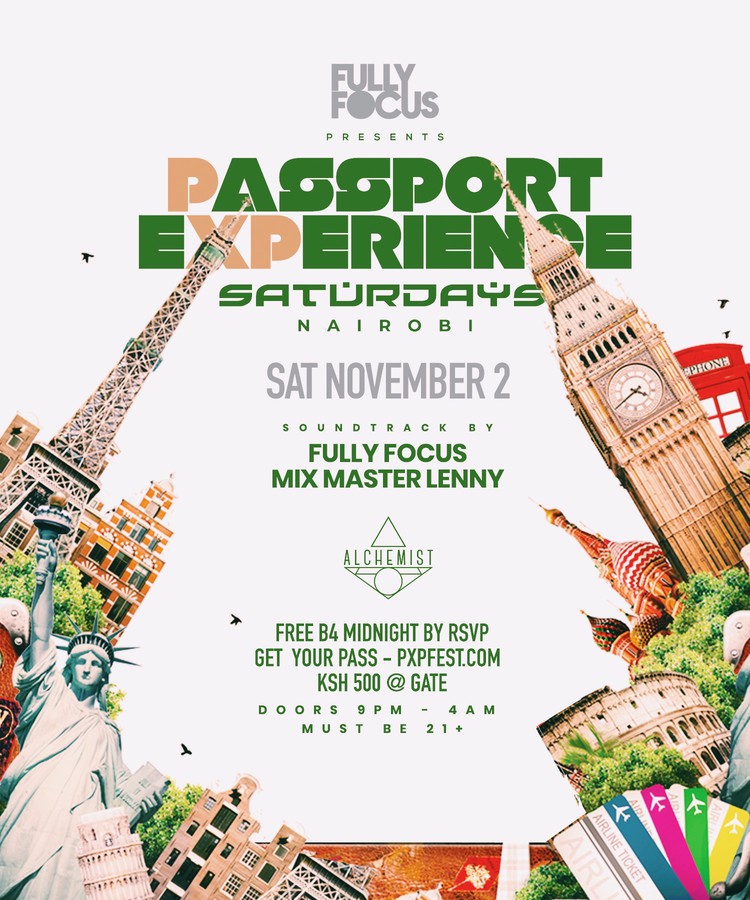 Music is a universal language. It doesn't matter that you don't understand what the lyrics mean, it only matters how the music makes you feel. With the Passport Experience, DJs Fully Focus and Mix Master Lenny have been able to tap into music's ability to traverse the boundaries of space, time and language and focus primarily on where the music takes you and how it makes you feel. The Passport Experience takes you on a musical journey, crossing borders and continents, essentially taking you on a magic carpet ride around the world. Cue "A Whole New World" from Aladdin. This is an opportunity to experience music like you've never experienced it before!
This Saturday, Come through for an evening sounds and vibes from all over the world. Grab your tickets here.
The Shifteye Social: Day Of The Dead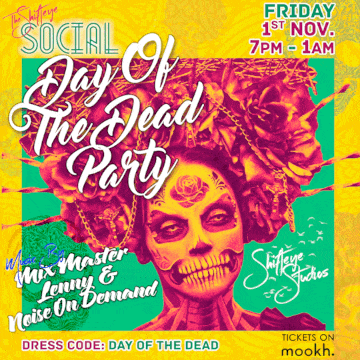 Much to our dismay, The Shifteye Social had taken a brief hiatus that left us longing for nights filled with good music and even better vibes at the Shifeye Gallery. But, worry not kids because The Shifteye Social is back and dare I say, better than ever. Their big comeback comes in the way of "The Shifteye Social: Day Of The Dead" celebrating the Mexican holiday, "Dia De Los Muertos". The Day of the Dead is a Mexican holiday that is observed with the aim of remembering loved ones who have passed on. The celebrations see people covered in insanely beautiful body art that will have you looking like a decorated skeleton in some really colorful, flamboyant outfits. It's spooky in the most beautiful way. This Friday, The Shifteye Social is here to give you an excuse to dress up and enjoy some great music by Mix Master Lenny and Noise On Demand in a gallery, what could be better?
Get your costumes ready and grab your tickets here.
Folk Fusion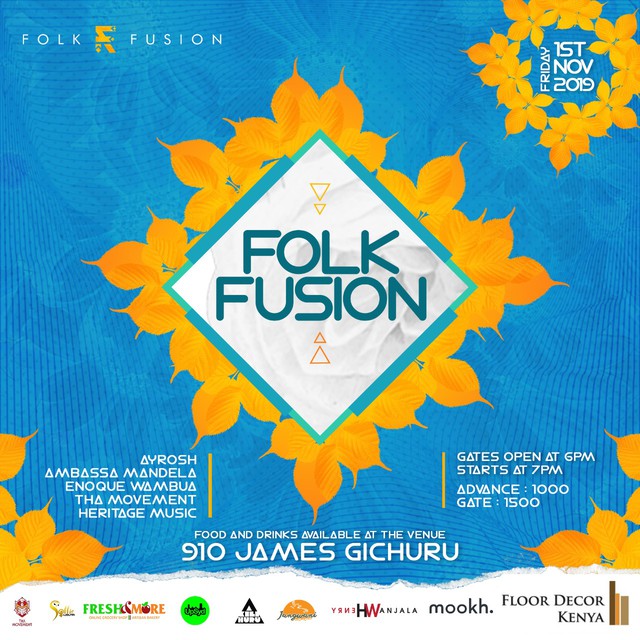 Since 2016, Folk Fusion has created something truly different with a gig that has brought together afro-pop and folk music. Lovers of mugithi music have enjoyed experiencing a musical journey that has taken them through classic mugithi music all the way to the afro-pop, mugithi music we listen to today. Folk Fusion has had performances by mugithi legends including Joseph Kamaru, John Ndichu and Rift Valley Brothers, all with an afro-pop twist. This Friday, Folk Fusion is back with a bang with the headlining act being Gikuyu Afro-pop star, Ayrosh. Other performers set to take the stage include the Urban Mugithi Crew who will be taking the stage with Kenyan Afro-fusion star Ambasa Mandela (formerly a member of the Sarabi Band), soulful Afro-centric singer Enoque Wambua and the up and coming Afro-jazz band Heritage Music.
If you are a lover of mugithi music then this one is for you! Grab your tickets here
---