The Truth (Finally) Reveals Herself: A Critique
'If they dunno, now they know'
Well, they're just about to...
Just over a year ago, Bey T (MC name The Truth) dropped the visuals for what-would-be (if it wasn't already) hit song If they Dunno. Just a week before the release, she made it as one of the Top 10 finalists in Mr. Eazi's emPawa 100 mentorship program, alongside Kenya gospel singer Nikita Kering.
So how did she end up on the African stage with 100 other great acts? Her day ones would tell you that she had it coming from the days of Facetime, Vision, and Bad Bad.
So what's (read who's) the truth?
She describes herself as 'basically a mf star' with 'a God-given glow that can never be dimmed.' The rapper of Kenyan, Eritrean, Ethiopian, and American descent has SoundCloud freestyles and demos dating back to two years ago.
The Truth dropped a string of singles in the last year, some of which didn't make it to the album like the PRXNCE-assisted visuals for 25FLOW and the name-dropping diss track Don to the Donna.
'Getting to the chips, I ain't talking 'bout a Pringle'
But the highlight of her year must have been her feature on Khaligraph Jones' cipher Khali Cartel 3.
Straight from the court's dock, she dropped Concept: Vol 1 two months later.
Concept: Vol 1
Concept: Vol 1 is a 14-song project that features PRXNCE, Zimbabwean rapper Union 5, and femcee Lioness.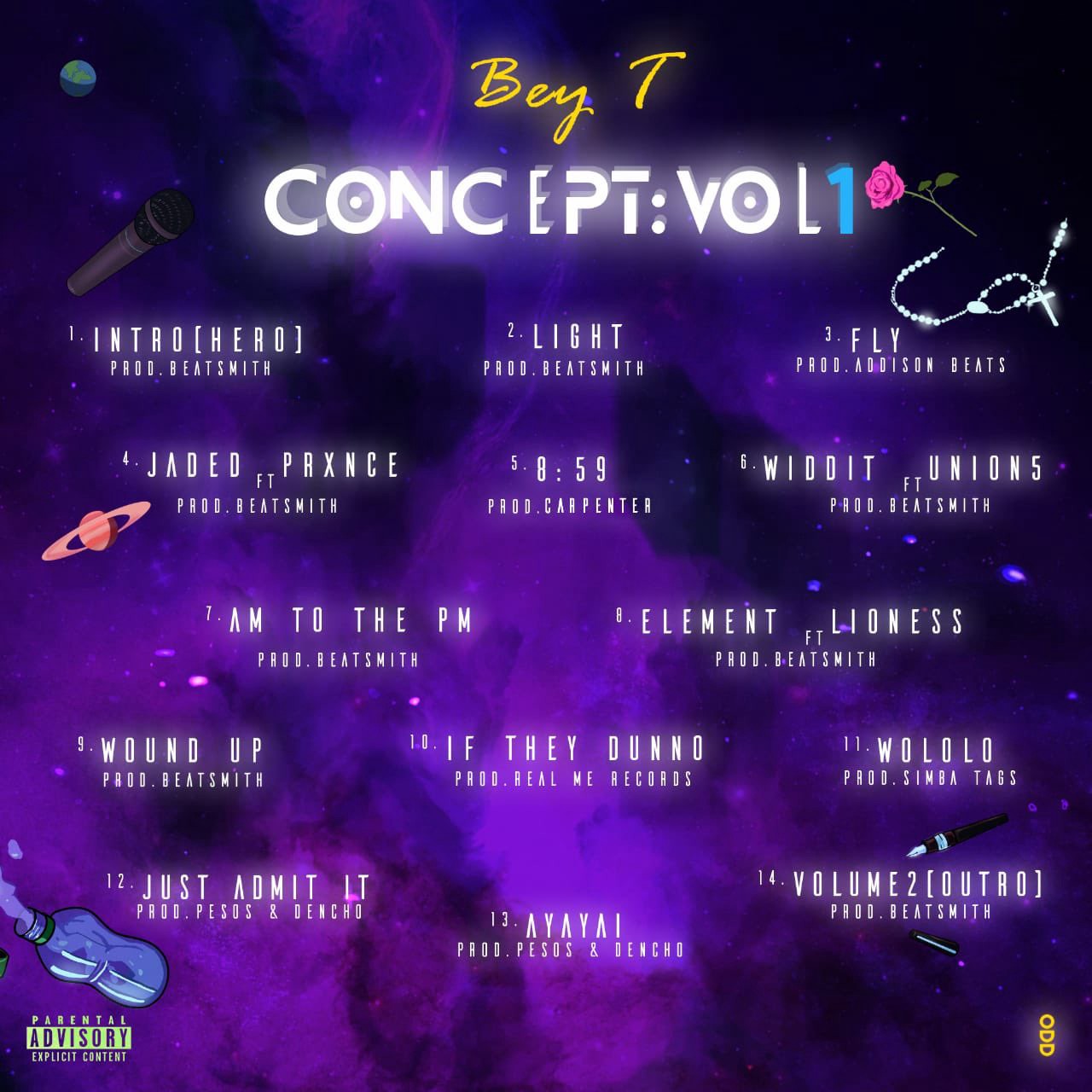 Beatsmith, Addison Beats, Carpenter, Real Me Records, Pesos & Dencho, and Simba Tagz are the producers credited on this mixtape.
'Do real numbers like I'm working in a casino,
My bloodline local, but my paps ain't Latino'
Off her latest single Nineteen, I'll share my two cents on Concept: Vol 1.
Intro (Hero)
The piano chords on this track! Don't get me started on the vocals yet! Damn! Hooked already!
The intro has such a mellow vibe. I wouldn't have it any other way. Love it!
'Mama shed a tear
She said baby you right here'
Bey T reminisces on the struggles that got her to this point in her career. She goes on to reflect on the positive affirmations she gets from her mom, shouting her out for believing in her. She also refers to her daughter as her hero.
Almost perfect start to the mixtape? I couldn't agree more. Getting back to this for a couple more listens.
Light
'No, I am not perfect
But my flow is so divine'
What caught my ears first were the guitar harmonies. By the time the piano chords came in, my head was already bopping to the instrumental.
Bey T shows off her spiritual side on this track. Too early to call Light the gospel touch on the mixtape? I think not.
She sing-raps through Light, and her vocals blend melodiously with the chords and harmonies in the background.
Just like on Hero, the euphonious vibe on Light makes it an early pick this far. Will I be jamming to this again? Definitely!
Fly
Drums! Finally! Been looking forward to this. Catchy hook! Already grooving to it.
Bey T spazzes on Fly. Several flow switches. And there's that looped 'High' in the backdrop on the hook!
'Claiming undefeated but you don't play
I'm undefeated I be winning but I don't say'
Her harmonious flow blends magically with her braggadocious bars spread out all over Fly.
It won't do the song any justice if it doesn't get as much radio play. Such a jolly vibe and can't wait to re-listen to it!
Jaded (ft PRXNCE)
Hardest producer tag I've heard since Metro Boomin's "If Young Metro doesn't trust you, I'm gon' shoot you."
'Martin Luther with the speech, aye
Beatsmith with the heat'
Jaded isn't the first time that PRXNCE has hopped on a Bey T single. Back in 2018, they linked up on 25flow over a heavier bassline and getting back to it today. I concur that it has aged pretty beautifully.
Though the drums on Jaded are a tad lighter, there's no compromise on the quality of the bars. Both rappers showed out on their verses and didn't anticipate anything less.
The PRXNCE feature is the icing on the cake. He goes off for over a minute, and there isn't a single still moment.
When I thought it couldn't get any better, he ends his verse with this set of bars!
'Top of the list I'm ranking
The rest of you niggas be tanking'
Too early to ask for a joint tape from PRXNCE and Bey T? Personally, it's long overdue.
8:59
The Carpenter's production première on the mixtape. The piano chords and the semi-subtle drums are a safe bet this far, and he prefers to stay in that pocket.
'Only time I'm feeling low is when I'm feeling low-key'
But it isn't the first time the two artists have collaborated on a track. In 2018, Bey T was featured on Michael Carpenter's Movements off his On Our Own EP.
The Truth pays reverence to legendary rapper Nipsey Hussle, a departed member of the Crips gang. The Crips associate themselves, with among 0ther things, the blue color, thus the reference on these bars.
'While the gang is Nipsey blue
Like the blue strip on my honeys'
8:59 isn't that dissimilar to Fly. I enjoyed listening to it, but I can't help but notice the monotony.
Widdit (ft Union 5)
The piano's back! And there comes in the muffled 808, so I know it's going to be a banger! Of course, it wouldn't be a Beatsmith creation without the drums. There's a looped guitar in the backdrop that adds the bop to an already dope combo.
'Eyes up on the bag but it's really time to get it though
Do it for the culture if they ask who we be spitting for'
The first time I'm bouncing to a Union 5 feature, and I must admit that I'm completely fascinated. He matches Bey T's flow and even goes a stride further and trades bars with The Truth.
Widdit is one for the culture, and I can't pick who out-rapped the other on it!
AM to the PM
Just on like Widdit, the piano chords form the base of the instrumental. Looped on the guitar too! Beatsmith then adds a clap and tops it off with a distinct 808.
'How she flow and she don't stop'
When she started her verse off with this line, I thought she was only but making a grand entry. Damn, she went crazy with her flow on AM to the PM.
Consistent with the song title, she alludes to a femcee that has put in work decade after decade, Nicki Minaj, with her famous bar:
'Hatin' bitches be my sons'
Element (ft Lioness)
On Kendrick Lamar's 2017 hit single HUMBLE, off his last LP DAMN, he raps on finessing a n**** with some counterfeits, but now he's counting this (In the visuals, he's spraying 100$ bills). Bey T puts a spin-off on this bar here:
'Not Kendrick but I finesse with my counterfeits (facts)
And now I'm counting this (facts)
I'm really counting hits'
Beatsmith takes a minimalistic approach with this instrumental. Looped 808s, on the rather ominous piano chords, are a welcome relief. Who would have thought that less would sound better here?
Element's a femcee takeover. And I couldn't agree more. Lioness alludes to this at the tail-end of this legendary verse with this iconic bar:
'Femcee army
All my barbies dressed in khaki'
Wound Up
Wound Up's unconventional. From the first instant I heard the song, I knew that it wasn't anything like I had listened to so far on the project.
Everything about Wound Up radiates softness. From the piano harmonies on the instrumental to the bird chirps and even the subtle clap and xylophone loops.
Wound Up is the love song of the album. Hoped it would feature sooner because the similarity of the raps gets exhausting, but I'm excited that it made to the mixtape.
'Love you till my body is dust
Can't do you wrong, my trust'
If They Dunno
If They Dunno was the first track that dropped off Concept: Vol 1. Admittedly, it was the first moment I discovered Bey T's music, and I must admit a remarkable inclination towards it.
Produced by Nairobi-based Real Me Records, the song has an exuberant vibe, just like Fly. I wouldn't attribute The Truth's breakthrough to If They Dunno, but it did jumpstart the discussion on how exceptional her art is.
'Big batty gyal, I ain't talking 'bout a cricket
And my flow too fly it ain't nothin' but a ticket'
I don't know if it's the merging of the piano harmonies or that of the drums that did it for me, but I relished the song then, and I still vibe to it to date.
Or was it her flow? So much greatness oozing on this track, and I can't even put the finger on what exactly I love about it.
Wololo
If They Dunno didn't make me a Bey T stan, at least not instantly. Three months after its' release, she dropped Wololo, and life's never been the same again!
The trumpets at the very start! Then the 808s after that! The xylophone! Simba Tagz was in his bag when he came up with Wololo, and Bey T's vocals are just the creme de la creme.
'Baby tell me how you feel
Isn't this thing real?'
Just like on Wound Up, The Truth shows her more delicate side on Wololo. Coupled up with her rhythmical flow, it's no puzzle why this song is such a club banger!
Just Admit It
First collaborative masterpiece on the project (artist features not inclusive). Pesos and Dencho make their original appearance on the mixtape by settling for just the piano and drums.
'Lifting up the youth, I can never get weaker,
And I kick game, I aint talking 'bout a sneaker'
Just Admit it has an upbeat tempo that tempts you to get on your feet. (I know this cause I'm on my feet every time it comes on)
When I thought I could not possibly come across more picks, The Truth shows out with another one (Insert DJ Khaled's iconic producer tag).
Ayayai
Pess and Dencho are back on it again! In usual fashion, there's the drums and the piano. I wouldn't say it's any distinct from Just Admit It.
'And when we are together,
I flow smooth, man just like leather
We so fly, yeah we so feather'
Bey T sing-raps on Ayayai. What grabbed my attention on the next verse, though, is the Jamaican flow she switches to momentarily. Charmingly surprised, I must add.
I didn't vibe with this single as much on the first listen, but I have a genuine feeling that it ultimately will grow on me.
Volume 2 (Outro)
'Vibe so cool, they catch a freeze'
Bey T reminds us why we fell in love with her in the first place on the outro. Her bars! And who better to handle production better than the Beatsmith.
If the outro is anything to go by, then The Truth's only but getting started. I am now even looking forward more to the second volume of Concept!
Overall album review
Concept Vol. 1, as an entire project, admittedly lacks the breadth of artistic versatility for a first release.
My biggest critique is that the project has a lot of filler tracks; for instance, her flow on Fly and 8:59, and the instrumentals on Widdit and A.M to the P.M, on the one hand, and Just Admit It and Ayayai, on the other hand.
Light is thematically different, and so is Wound Up, but those are only exceptions in the entire length of the drop.
Regardless of these reservations, the essence of the mixtape, the music, was no letdown, and I can't wait for new music from Bey T.
The features on the album are at a minimum, and every guest verse is a hot 16.
(If you read this Bey T, the streets need you to drop the fire freestyle you posted up on your Twitter handle!)
---