Lwanda Rockman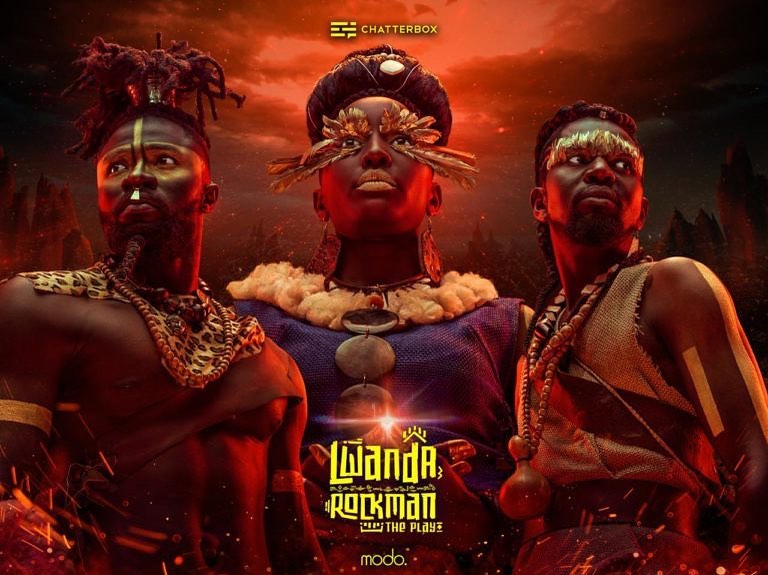 There's a certain delight that descends upon you when you walk into the Kenya National Theatre. Perhaps it's the cleanliness of the tiled carpet, or the seats with red, leather flaps. Perhaps it's both; and if you're punctual enough, you get to choose a seat with the perfect view. And Lwanda Rockman gave lovers of traditional art another reason to visit the memorable two storey building along Harry Thuku Road.
Lwanda Rockman is the brainchild of The Chatterbox Collective. Directed and produced by John 'JJ' Jumbi, the story re-imagines the life of folklore legend Lwanda Magere. For the kind who remember tales told when they were younger, this is the one of an invincible man whose sequence remains clear as day.
For two hours, the cast of approximately fifteen presented us wit, love, anger and treachery; a collection of essentials for entertainment. The Collective delivered top notch vocals over the music played by Shamsi Music. The setting, estimated to be the mid-1800s, was Koth Biro (Dholuo for a place of water) – the home to a legendary war hero and his tribe. The mission on scene becomes the hero's quest for a perfect life partner. But when his search leads him to a foreigner, friction sparks among his tribeswomen – particularly among the ones interested in Lwanda. Jumbi made sure to incorporate additional characters, Lady Medusa, the wedding planner, and her assistant MyDear, as Lwanda's consuls in picking the right wife.
Across the valley from Kothbiro is Konte, the man on a mission. Konte's superior is the Commander and colleagues are 'Troops' – two humorous soldiers who remind me of common duos we grow to enjoy. Konte's secret weapon, a woman (Chichi), is to help with his plan but as tradition would have it, women aren't to be involved in the affairs of war.
The heart of humour in this show is the three beautiful ladies of Kothbiro. They have a single factor that unites them: all want to be the Rockman's life partner but none of them gets the esteemed title. Elegant Athola, wise Aliya, and peculiar Apita, brought out the different personalities in women but maintained a meaningful fact – relentlessness. As the story ends the way we know, tragedy befalls the mighty warrior, leaving the audience in the kind of conundrum only a good story can achieve – excited by Konte's achievement or saddened by Lwanda's demise?
---