Let Vallerie Muthoni impress you with her new EP Pisces SZN
It's Pisces SZN again. That's how Vallerie Muthoni's nu project blasts off in your ears. Bold and fierce like Sasha Fierce, the young black queen is back to show us some new drip and flow.
We secretly listen to new music to learn about the artist and find things we can relate to them. Well step aside and watch as Brown Suga flexes her different sides in her new EP. She released it on her birthday - 14th March 2019 - as an ironic gift to us.
Her debut project the Wavey Soul is not even a year old yet. In August 2018, she introduced us to her soulful R&B side as well as her hardcore hip-hop vibe - Vallerie Muthoni is a singer, rapper, and deep thinker. The 5-track EP is a declaration of who she is; the wavey soul who is as deep as the ocean and as beautiful as the sea. She has fully embraced her zodiac water sign.
That's why Pisces SZN is the perfect continuation.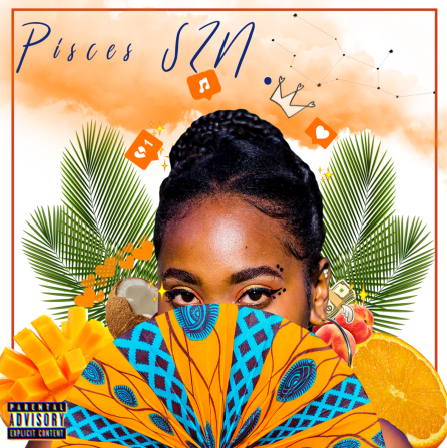 In her new project, she deeply explores her versatility as a young Kenyan artist through four distinct chapters. Legendary Shit (with a clean version for media) is for the true hip-hop fans. On top of a heavy trap beat, she declares she's the hip-hop queen and her crown still fits. Why? Well, she's been working hard and never plans to quit.
In the energy packed verses, she shouts out Zazibar for their natural organic drinks and reminds you about her opening performance at Burna Boy's Thrift Social concert. Just in case you forgot..
In the second chapter, she transforms into an R&B diva. New Flex is about moving on after a love gone wrong. She sinks deep into her emotions like a true Pisces baby. Thank God she's found some New Flex as her waves never die, she's the wave - a clever reference to her first EP.
The R&B track also has a future bass outro just like her 2018 single Brown Suga. Where she confessed she might take your man though it's not the plan.
She couldn't help herself. Brown Suga finally hops on the Afrobeats bandwagon in Spicy Szn. The third chapter carries a Masego sax vibe - she's a huge stan according to her Twitter. And yes, the rumours are true. Uncle Sego is coming to Nairobi in May thanks to her fervent prayers and tweets.
Back to Spicy SZN; this bouncy jam is sure to send you to the dancefloor. It also features NuNairobi producer/rapper TAIO with his slick lines and the sultry songstress Ru.By with her honey vocals. Meanwhile, Vallerie flexes about being a goddess who lives lavish and only likes finer things, including men. But to be honest, she only got time for the dough.
A Milli Refix is a special one. You do not anticipate the live instrumentation by Victor Kimetto on the legendary Lil Wayne beat. Brown Suga had to spit confident bars on the familiar A Milli instrumental and sprinkled some Gikuyu spice to honour her Kenyan roots. She also pays her respects to conscious Kenyan rapper Jason Kali cause he was a lion.
She performed this unique hip-hop refix live for the first time during her birthday party at MUZE club on Friday 15th March. I didn't know it was that spicy until I heard it at home on my speakers. That night, I was too busy admiring her all-black outfit and her bold confidence on stage. She's so sure of herself you just want to watch her all night and vibe and it all translates into her fresh NuNairobi music.
KrissiO, YonasKbeats and Ransom Beatz made this short and sweet EP too spicy. It was recorded, mixed, mastered and co-produced by the audio master himself Jaaz Odongo. Yup, this is legendary shit. Go low and download Piscez SZN on Mookh to support a Kenyan queen and her drip.
It's technically no longer Pisces season (Feb 18 - March 20) but it's still spicy szn. And just the beginning of a spicy new year for Brown Suga. You dig?
Joy Ruguru is a Kenyan writer and events junkie with an unhealthy addiction to music. Catch her on the entertainment blog LaMusicJunkie curating music playlists or gushing about local events. Or both.
---