Digital Gallery: Ngaira Mandara Takes You Through The Streets of Dar Es Salaam With His Illustrations and Animations
There's nothing quite like seeing a city through the eyes of a local. What could have been a generic experience, is turned into something authentic. With his illustration and animation series, "The Streets of Dar Es Salaam", digital illustrator and animator, Ngaira Mandara, has been able to capture what is quintessentially Dar. He has figured out how to take you on a journey to his hometown by bringing his hometown to you. - Rahma Seif
I am inspired by my experiences. With each illustration I do, I aim to capture that experience and emotion and share it. By sharing my work, on social media, as art prints and products I hope to spark a certain memory and experience that the viewer went through when they interacted with the people and places I illustrate. I capture different stories and variations of experiences and emotions that viewers went through.
Kariakoo Illustration
I often used to go to Kariakoo very early in the morning. I remember getting there sometimes as early as 6 a.m. and seeing people already awake moving around, going from one location to another. Every time I saw the Kariakoo building I knew I was there. The building is very symbolic and an architectural treasure. The movement of people and the goods they buy and sell was so exhilarating to me. It felt like a rush. I wanted to capture that.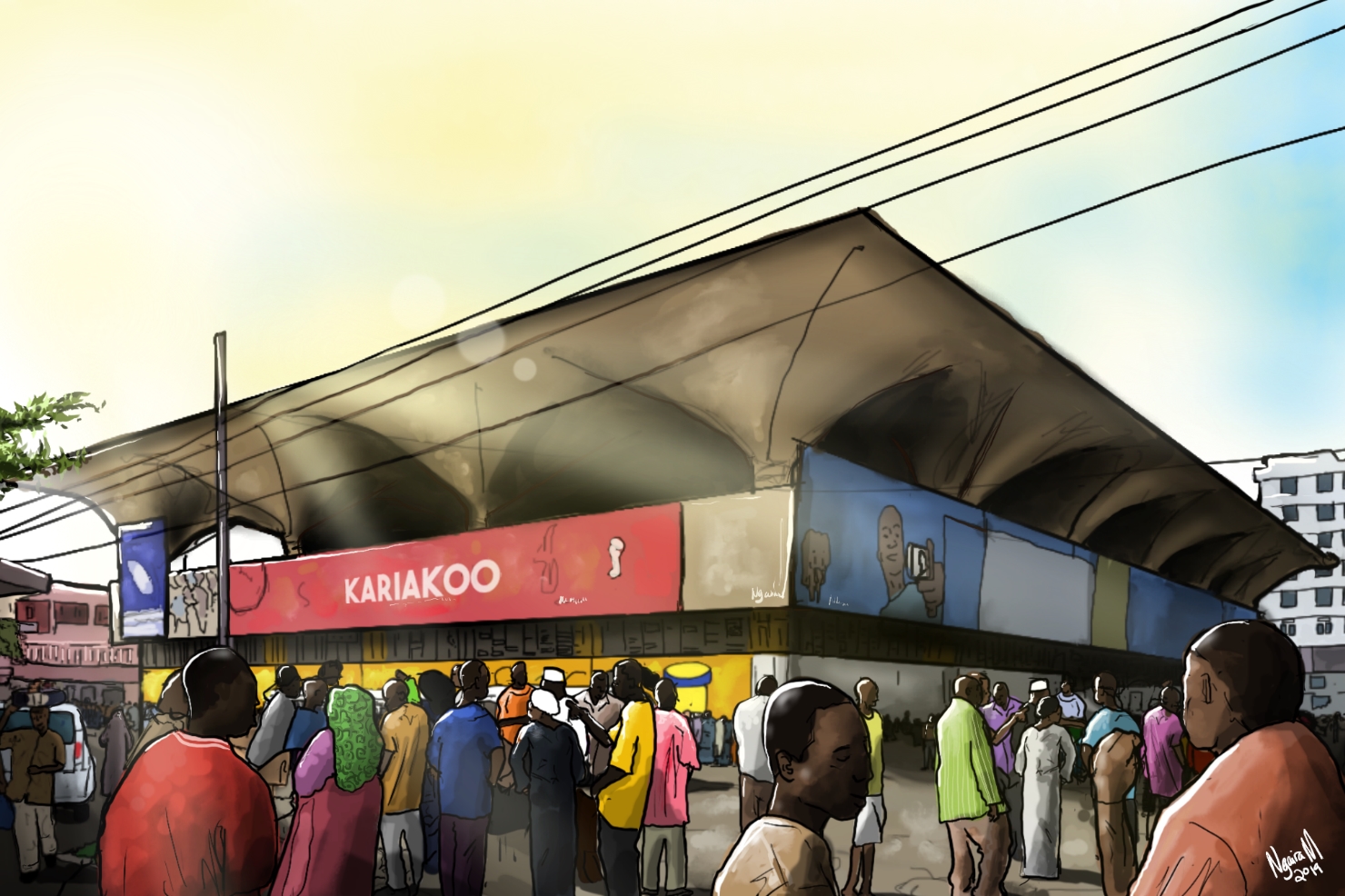 Kivukoni Market Illustration
I have been to Kivukoni very few times in my life. Although I live in Dar, it is a place I rarely visit. I usually pass by the market when I am going to the ferry to go to Kigamboni, on the other side of Dar. On the day I got inspired to illustrate the market, I was with a friend and we decided to walk around the market. I saw the fishermen coming in with fresh fish and people sorting them. I saw the chefs cooking and preparing the fish. I wanted to capture the moment of preparation; when vendors and fishermen were preparing the products for the market.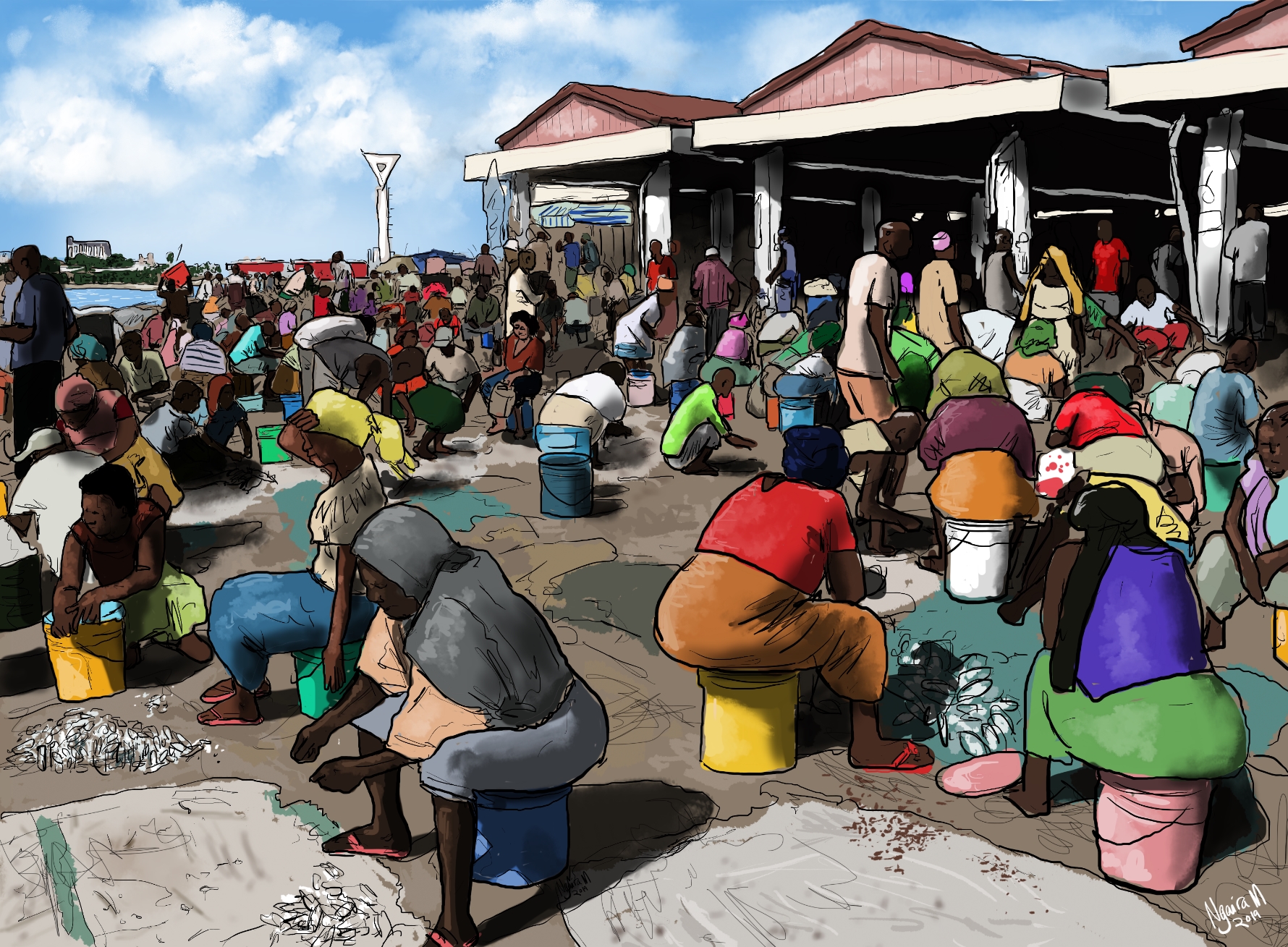 Mamboz Corner BBQ
Mamboz is a local BBQ joint and restaurant with multiple outlets. I usually go to their branch located in Masaki and I LOOVE their Sekela chicken. Their very first branch is located in Kisutu, very close to the city center and I wanted to visit that branch. I was curious to know where it all began and it was so exciting.
They open in the evening along the road near a Mwendokasi (rapid bus transit) bus stand. Before they start serving customers, you can see them setting up the chairs and barbequing their chicken. The delicious aroma spreads around the area and passersby stop and stare waiting for the meals to be ready. It was a food adventure and it was worth the wait.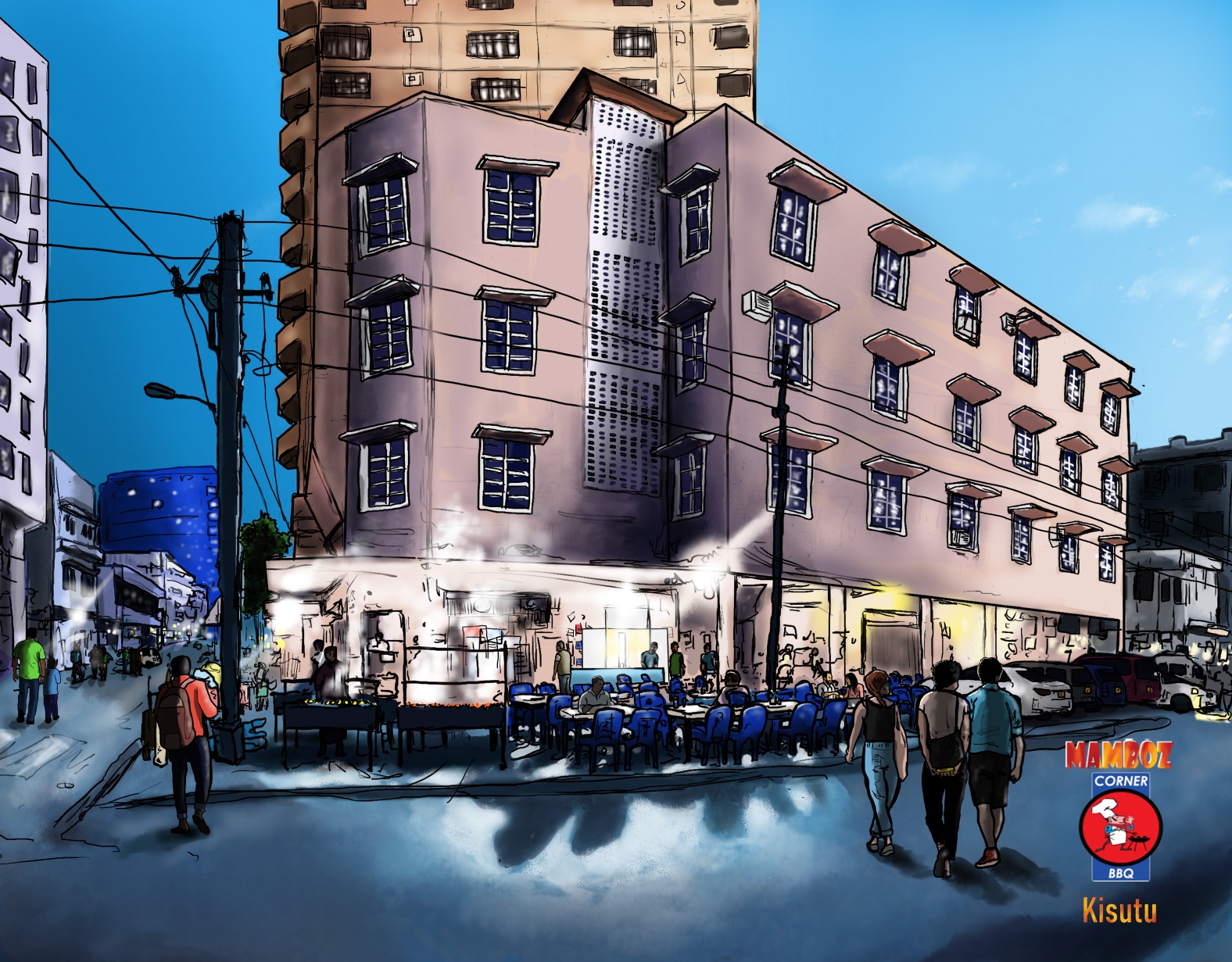 Askari Monument Animation
It was a really hot day. I was standing very close to the Askari Monument waiting to cross the road. As I sat there feeling the heat, a thought crossed my mind "I wonder how he would feel standing all day, every day in this heat." That's when it hit me and I got the idea for the animation.
The askari would not complain. He would wipe off his sweat and get back in his position and stand firmly, protecting the city. That's what the askari would do.
This animation also sparked conversations on the issues surrounding climate change. How much our climate is being affected, looking at how much hotter Dar Es Salaam has become. Sparking conversations, emotions and experiences, this opened my eyes further to the role that art plays in the society.
Dar Es Salaam is changing every day. I want to capture these changes and treasure the moments I have with people and places I interact with. Years from today, the Dar Es Salaam I know will be very different. I will really enjoy sharing the stories I manage to capture with the future generations and people who haven't been to Dar Es Salaam before. I hope to travel beyond Dar Es Salaam and illustrate more experiences and interactions.
---